Comments – Coastal Island Fishing Adventures
Reviews on exciting, enjoyable and relaxing Coastal Island Fishing Adventure experiences
Call or Text Us For Your Fishing Adventure 1-877-537-7678
We will get back to you ASAP
Campbell River Guided Salmon Fishing Charters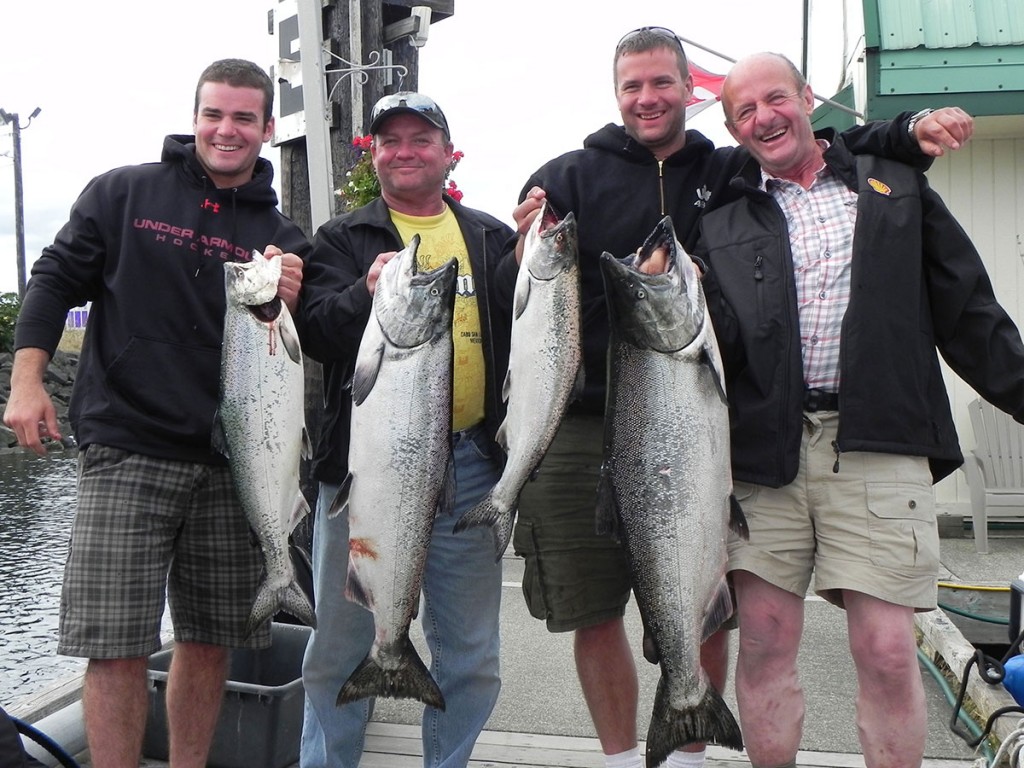 My daughter Kassidy and I fished with you a few weeks ago and totally enjoyed our fishing trip on your boat. We thought the boat was in great condition along with the fishing gear and equipment you provided. Your professional and friendly nature made it a wonderful experience for both Kassidy and myself. On top of all that we caught fish and Kassidy brought in some wonderful salmon, one nearly 20 lbs. and made memories to last a lifetime!
Thanks for treating us so well we would recommend you to anyone visiting the area!
Jeff and Kassidy Brown
San Diego CA.
Thank you so much for the amazing day out on the ocean!
We felt completely silly when we got home and realized we hadn't left you any of the prawns as we had meant to do so. If you find yourself in Nanaimo let us know and we will cook you up some….they are fantastic (and so is the salmon)
Cheers
Karen and Garret
Thanks for the pictures and a wonderful stay with you! I know we told you we were coming back in a couple of years, but Beverly and I are trying to figure out if we can save enough money to come again next year! That's how good a time we had! I will be in touch hopefully within the next month to let you know. Hope the fishing has been good for you!
Craig
Thanks ….it was wonderful and we both enjoyed the trip which your guiding made it extra special. As you suggested we had one cooked at the Riptide and thoroughly enjoyed that. So it was a great birthday for me. So thanks again…we will look forward to our next trip with you.
Robert and Juliane
Just to let you know we had a terrific time out. Even though fishing was a bit slow, the conditions on the water were ideal. Your boat was great and we appreciated Rick's company. Our kids will be talking about this for some time. We finished the day off by collecting a bucket of oysters from the beach. Thanks again.
Gary Lockhart
I'm home now but still remember our fishing trip on june 30th 2010, and what a perfect fishing trip that was! Your Professional Guide Chris is an excellent guide, very professional, courteous and friendly. It didn't take long before we had our limid, and he sure know the spots. The next time that were planing to go fishing, I hope Chris will be our guide again. To anyone that is planing to take a charter for Salmon fishing, I recommend, to talk to Coastal Island Fishing Adventures
A BIG THANK YOU for the wonderful day we had on Campbell River. Here are a few shots from our catch that day. We wish you all the best and hope to see you soon.
Max and Louis, from Edmonton AB.
Here is a picture " I think the smiles say it all! My little guy Wyatt had such a good time. Please say thanks again to Chris for me " he was really awesome in engaging Wyatt and teaching him about fishing!
Just a reminder ( when you have half a millisecond ) if you could recommend a date in August and a date in October for some fishing that would be great. I'm really pretty flexible in the timing of it (though my work sometimes throws a surprise at me).
Thanks again for another great day on the water.
Best regards,
Chris Widmeyer
Thank you so much for giving my kids.. and husband one of the most amazing fishing trips to date! my daughter is an avid seafood eater, and fisher girl. I try to do my best by cooking it up, an my son who hasnt been a fish sort of person to date had a great time! thank you again!
Candace Baars
I only recently looked at the website and saw our picture on there. Boy, did it bring back memories of our cold but wonderful fishing trip. Of course y'all did not see the "rest of the story" getting the fish back to Texas. We did not arrive back in Anacortes until late at night after leaving Campbell River. We had been trying to find frozen gel packs all day and knew we had to put something freshly frozen with the fish. We finally went to the grocery store and bought a bunch of frozen vegetables. We then had to drive to Bellingham to our motel for the night. Our flight left early in the am.
We were at the airport about 5:30am and I had to babysit the cooler while Tim dropped off the rental car and hoofed it back to the terminal. He then had to go to the counter to see if they were going to allow the box to go on the plane. Two airline personnel got into a fight, one saying "yes" the other saying "no". Thank God the yes lady won. We then had to hunt down the one cart in the whole small airport to wheel the cooler inside. When they weighed the box it was over 100 lbs. We started pulling out frozen peas, squash, etc. to get to the magic number.
We landed in Seattle and changed planes. I saw our white box being loaded up the ramp of our plane. At least it would be in Phoenix. I did not see it in Phoenix so we went on faith that it would be in Houston when we arrived. We landed, went to baggage claim and there it was! Our white, now cracked and leaking Styrofoam fish holder. We loaded it on a cart and dripped outside to the parking lot van stand. When the van stopped, everyone in it took one look at us and the leaking box and started protesting. The driver helped load it on and away we went. The next day, I spent all day filleting and bagging fish. I couldn't eat any for a while.
We have so enjoyed our fish and think about our trip almost every day. Can't wait to get back. We just love it up there. Thanks, Eric, for a wonderful experience. Tim has not done a lot of fishing and he was having the time of his life.
Michelle and Tim Romedy
Needville, Tx
I just thought I would drop you a note to let you know what a wonderful time my wife, girls, and I had with Chris on August 15th. The boat, and equipment were all first class. And as I am sure you are aware, Chris is a great guide. Courteous and personable, our family had a wonderful time with Chris learning about Salmon fishing techniques in the BC area, as well as Vancouver Island and the Campbell River area. I certainly hope to be able to come back to the Campbell River area and do some more Fishing. I will definitely book the trip with your company, and have already highly recommended it to several friends at work. I would love to be able to buy one or more of your Coastal Island Fishing hats to remember the trip and market your company with my friends. When we were there, Chris indicated that you did not have any available at that time. Would you please reply and let me know how often you get them in, and what they cost. Chris immediately sent us some pictures from our trip, and we also took several wonderful pictures as well. Please let me know if you would like any additional photos for your marketing brochures. Its not often you get to see your daughter reel in a 20 Lb Spring, and catch another 20 and 25 Lb Spring yourself in the same day. Not to mention, the trill of stealing my Spring back from the Seal. What a blast!
Thanks Again, Gordon, Jen, Tessa, and Britta Anderson
Thanks for the trip this morning. My dad, my two sons, and myself thoroughly enjoyed the time and the experience today; excellent guide (Chris) and equipment. Lots of patience with nice rewards. Looking forward to the next time.
Regards, Scott Curry
Thanks for a wonderful day of fishing! Your skills as a guide and your personal ability to communicate with your clients are the best I have ever had the pleasure of experiencing. You put our family at ease, and instilled confidence in my girls and wife, which made the trip extremely memorable. We also really enjoyed the opportunity to talk to you about your family, your other job, and to learn more things about the Campbell River. From my perspective, some of life's best opportunities and experiences are found by meeting people from other places and learning first hand about their life and the local cluture. Your personal skills, and fishing expertise are not merely good for Coastal Island Fishing, but your are also a great representative for Campbell River, and Vancouver Island. If I ever get a chance to come back, you'll be the first person I contact when planning my trip. If you or your family ever plan on coming to the Minnesota area, please send me an e-mail and I would be glad to help provide suggestions or help arrange a trip. Better yet, have you stop bye and see us.
Thanks Again. Gordon, Jen, Tessa, and Britta
Just a short note to say thank you to both you and Chris (our guide for the day) for a fantastic day's fishing for Chinook salmon off Campbell River. The day started with flat calm water and the sun rising over the mainland mountains as we put the prawn traps out. The salmon fishing could not have been better – I think the combination of an excellent guide and top notch gear didn't give the fish much of a chance! It turned out to be one of those days where we could not get the second rod down before a spring had hit the first. A day I will remember. We limited on our prawns as well – they were delicious. I will see you later this summer.
Best regards, Grevin Williams
Thanks for arranging to have our group be guided by Chris again this year. Last year was such a wonderful experience for us and Chris played a big part in making it that way. We're all looking forward to the trip on August 17 & 18, 2007.
Thanks, Don Kretlow
Had a great time and plan to make it a regular trip each year. Chris is a great guide, please send my regards.
Denny Miller, Florida
At the risk of sounding repetitive, I want to tell you again how much we enjoyed our trip again this year.
Clive, Winnipeg Canada