Seafood Recipes – Coastal Island Fishing Adventures
Enjoy some great personal seafood recipes and tips from the fishing pros.
Tight Lines & Good Fishing!
Call or Text Us For Your Fishing Adventure 1-877-537-7678
We will get back to you ASAP
Campbell River Guided Salmon Fishing Charters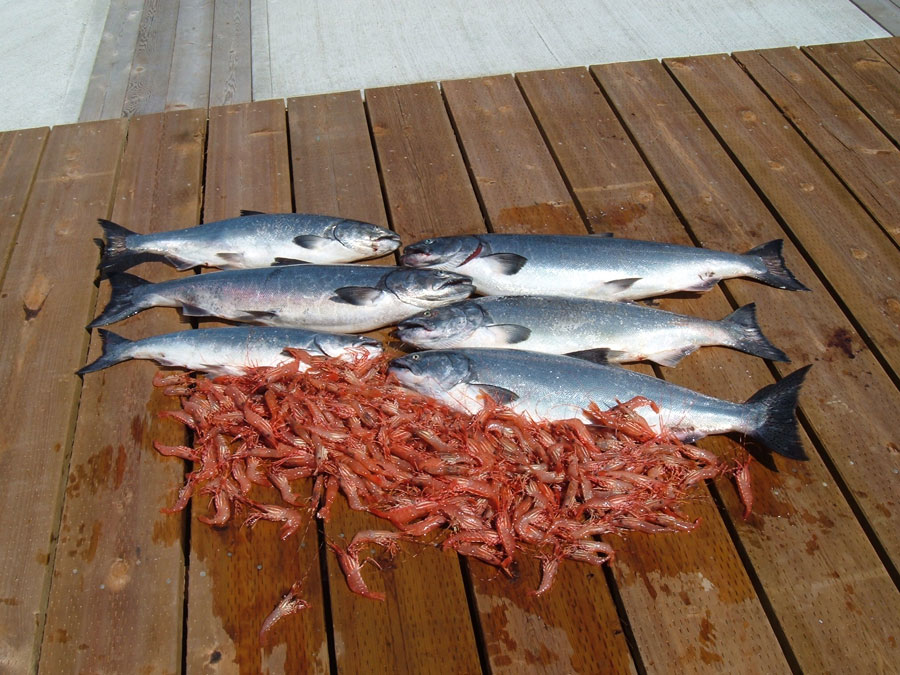 Whole BBQ Salmon
Works best with a fresh pink salmon or smaller salmon (6-10lbs)
Cut off head, fins and tail. Thoroughly rinse salmon with cold water and pat dry. Ensure inside the belly is well rinsed and dried too. Place fish on sturdy tin foil, shiny side in.
Spread butter on the entire salmon and in the belly. Thinly slice lemon in rounds and place inside belly and on the skin. Sprinkle a little dill, salt and pepper on the outside and inside the salmon.
Wrap salmon in two layers of tin foil and place on pre heated BBQ between 350-400oF. A regular stove can also be used.
Cook about 20 minutes or until just done and salmon comes off in flakes.
Do not overcook. Serve on large platter with cooked lemon wedges.
If you have cold left over salmon the next day it is excellent mashed up with mayonnaise and served in a pita with salad greens or sprouts!
Secret
Up until now –  a secret for 20 years"*
6 large cloves of garlic minced

2 TBSP fresh grated ginger
¼ cup soy sauce
2 cups dark brown sugar
1 lemon
½ – 2/3 cup of melted butter
Filet fish. Rinse with cold water and pat dry and place skin down on a pan Mix brown sugar, soy sauce and fresh ginger in a separate bowl and put aside for later.
Squeeze lemon on fillet Mix minced garlic into melted butter. Pour over fillet.
Bake for 15 min @ 350oF Pour brown sugar, soy sauce and ginger mix on fillet and cook until fish flakes apart Serve with rice and fresh green vegetables (green beans are great)
Seafood Sauces
Seafood Sauce
Great for dipping prawns & crab
Ketchup
Horseradish
Tartar Sauce
Great with lingcod & halibut
Mayonnaise
Green relish
Louisiana Hot Sauce or Tabasco Sauce
Add mayonnaise and green relish in a 1:1 ratio and a dash or two of hot sauce. Mix well. For a crunchier sauce add a little more relish.
Parmesan Salmon
2/3 cup mayonnaise
1/3 cup grated parmesan cheese
3 TBSP lemon juice
3 minced garlic cloves
salt & pepper
dill
Filet fish, lay skin side down on aluminum foil @ 425 and bake for 15 minutes then brown under the broiler for ½ minute. Also great on the BBQ
Acadian Prawns
4 large garlic cloves
Fresh ground pepper
3 fresh basil leaves (or 1 tsp dried)
2 bay leaves crumbled
Pinch of salt 1 tsp paprika
10-12 crushed chili flakes depending on how hot you want it
½ cup butter
v1 pound of peeled raw prawns[/span]
With a mortar and pestle, combine all ingredients except butter and prawns until it is a chunky paste. Heat butter in large frying pan or wok. Add prawns and cook 2-4 minutes and add paste. Eat immediately. Extra sauce can be dipped in French bread.
Breaded Lingcod
A family favourite – super easy to make!
Stone wheat thins – about 4 or 5

3 TBSP flour
Salt and Pepper
2 eggs
Vegetable oil
In a large Ziploc bag, crush stone wheat thins until they are tiny pieces (a rolling pin works well without puncturing the bag), add flour and a liberal amount of salt and pepper.
Cut up cod into 3 x 3 inch by ¾ inch thick pieces. Dip cod pieces one at a time into beaten eggs and put into bag and gently shake until covered in mix. Place breaded cod into pre heated pan of vegetable oil about ¼ inch deep. Cook until golden brown and cod flakes apart easily.
Serve with tartar sauce.
Maple Syrup Salmon Recipe
SOAK CEDAR PLANK ONE HOUR

FISH SKIN DOWN ON PLANK\
SALT AND PEPPER FISH
THINLY SLICED ONIONS ON FISH
APPLY PURE MAPLE SYRUP (COSTCO)
APPLY THINLY SLICED LEMONS
DRENCH W/ MAPLE SYRUP
PREHEAT BAR B Q ON HIGH
TURN HEAT TO MEDIUM
COOK 35 MINUTES
DON'T OPEN LID 'TIL IT'S DONE
TIP: PUT MAPLE SYRUP IN FREEZER TO THICKEN FOR APPLICATION
How to Prepare Salmon – Tips from the Fishing Pros
If we can only pass on one super critical important tip – this is the one!
How to correctly defrost frozen fish, any type of fish:
Remove frozen fish from packaging, rinse and pat dry with paper towel. Let it defrost on a plate uncovered on paper towel. Once fish is defrosted, rinse again with cold water and pat dry. For a whole fish, rinse inside and out and pat try. When fish is defrosted in the bag, this is where the 'fishy smell' and taste comes from.
When cleaning a fish, make sure it is thoroughly clean with no blood and pat dry. We recommend vacuum packing as fish will keep better when frozen.
When defrosting frozen smoked fish, remove from bag and defrost on a plate on paper towel. We do not recommend freezing fish whole. Before freezing cut into meal size steaks or fillets.
Once a fish is unthawed it cannot be refrozen.
Click image below to enlarge